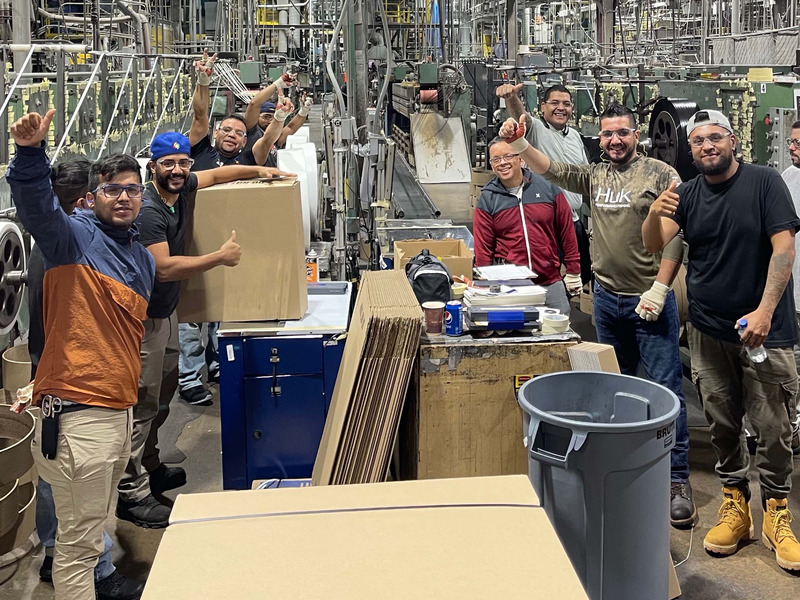 Bilingual Recruiting and Support Is Building Back Greenbridge's Workforce Better than Ever
In November, Greenbridge achieved something unimaginable during all of the supply chain havoc of 2021: We produced a record -breaking amount of polyester and polypropylene strap at our manufacturing plant in Clyde, Ohio. Our CEO, Omar Abuaita put November's win in perspective for our team:
"Despite horrific headwinds in 2021, the Greenbridge team rallied, welcomed new team members and pulled together. The result is November being the best production month of strap in company history. Thanks everyone – you're killing it!"
What's remarkable is just three months ago, we weren't killing it. Finding people to staff our strap manufacturing plants was close to impossible. We were understaffed and the team members who stuck with it were pulling tremendous overtime . The situation was incredibly stressful for everyone.
And then a brilliant idea was hatched: why not double down by recruiting, training, and supporting people who want to work but don't speak English? If we tear down that barrier, we can recruit a whole new pool of talent. That's how Greenbridge's Bilingual Talent Acquisition Program was born.

Under the guidance of Mary Benavides, a native of Peru who speaks fluent Spanish, we quickly converted all job postings and onboarding materials into Spanish. We began doing training and support in Spanish. Mary was available to answer questions for new Spanish-speaking team members. And thanks to a referral bonus program, we quickly added more than 32 team members at our Mentor plant where we piloted the new program.
And that's when we broke our production record at Mentor. Instead of stress and fatigue, our team was smiling again.
We're now launching the Talent Acquisition Program in our Virginia Beach, Virginia, strap manufacturing plant, using the Mentor pilot as our template. We have an on-site program coordinator, Tom Lopez, who is overseeing implementation of new training and mentoring in Spanish. In our first two weeks of bilingual recruiting, we scheduled 15 interviews and started hiring.
One new hire is from Colombia. In his home country, he worked as a lawyer. He came to the United States on a work visa and is eager to work and become a citizen.
"Virginia Beach has a large Colombian community," shares Benavides. "We are hoping to tap into this group who may have had a hard time finding a job due to language barriers. They want to work and support their families. I am amazed at how grateful they are for the language support. One guy told me he wants to work weekends, holidays, Christmas."
She adds, "It's wonderful to create opportunities for people, but also wonderful Greenbridge can staff up and provide our customers with the strapping products they need to run their operations."

Greenbridge plans to expand the Bilingual Talent Acquisition Program to our strap manufacturing plant in Fountain Inn, South Carolina, in early 2022. We're also planning to offer English and Spanish language classes to all team members.
"We're breaking down language barriers and building bridges within our team which makes us a better place to work for everyone," smile Benavides.
Greenbridge is currently hiring across our company. We invite you to visit our Career page for job listings in English and Spanish.