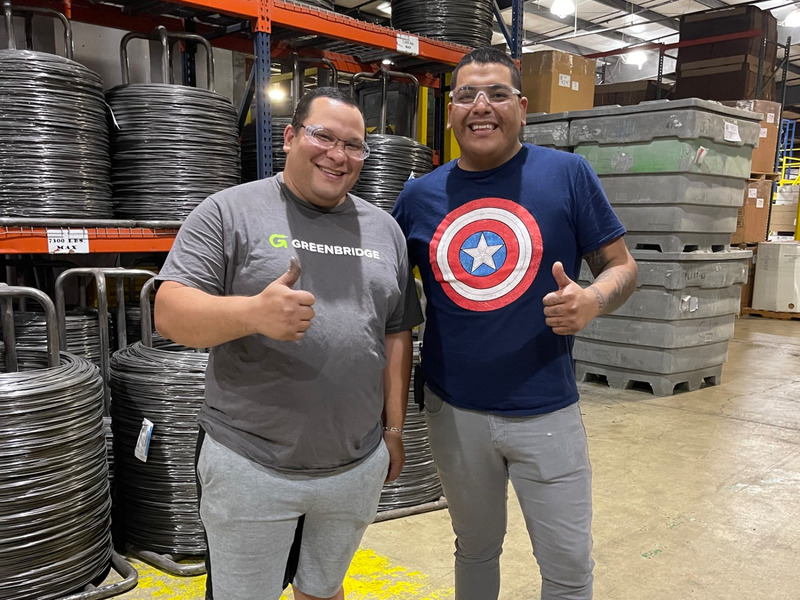 How Removing Language Barriers Is Boosting Hiring, Launching Careers at Greenbridge
Applying for a job shouldn't be intimidating, but for those who speak little or no English, it often is. How do you find a job if you can't read the language? If you do find a job opening, how do you complete the application? Then if you get the job, how do you know what to do if you don't understand what your boss is saying?
Recognizing these hurdles, Greenbridge recently launched a Bilingual Talent Acquisition Initiative to remove the language barrier, and in the process, create a more inclusive, supportive workforce. The initiative is currently focused on reaching Latinos, a population eager to work but sometimes hindered by language.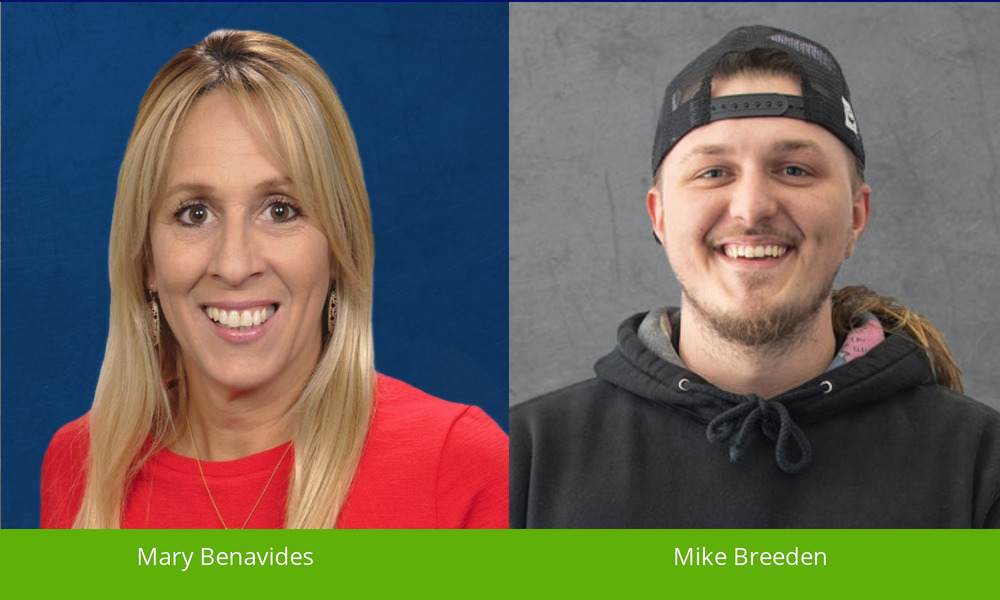 Among the first steps taken was the hiring of Mary Benavides, a native of Peru, who is in charge of outreach to the Latino community. She has partnered with fellow Greenbridge team members like Mike Breeden, a training supervisor at the company's Mentor, Ohio plant, that produces strapping to overcome language barriers.  It's a role that includes equal parts of helping people navigate the hiring process, training, mentoring, translating, and compassion. In just a short time, Benavides, Breeden, and others working on the initiative have:
Overseen the translation of all job postings, applications and employee benefits materials.
Identified bilingual team members at all of Greenbridge's offices and manufacturing plants to serve as translators, mentors and trainers.
Helped implement training in Spanish so new employees are quickly onboarded in their new careers.
Made sure all new employees are aware of special programs like tuition reimbursement and referral rewards, which pays Greenbridge team members who refer people for jobs and are hired.
Among the initiative's success stories is that of Israel. A married father of two young sons, Israel was working at DoorDash to support his family during the pandemic. Every time he drove by Greenbridge's Mentor plant and saw the "We're Hiring" banners, he wanted to stop but was afraid. You see, Israel's English was not very good. When DoorDash deliveries dropped off, Israel found the courage to stop and ask for a job.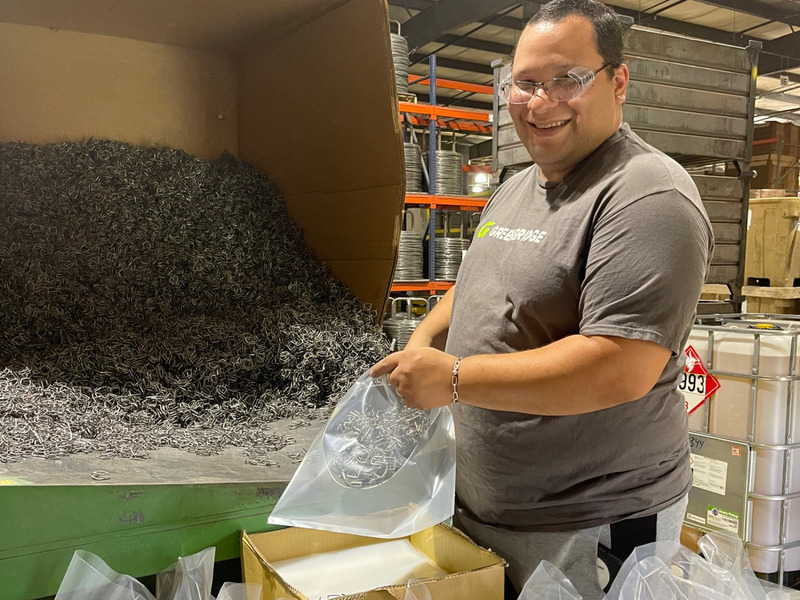 What happened next surprised him. He was introduced to Benavides, who greeted him in Spanish and personally walked him through the hiring process. Israel joined the Greenbridge team in July, went through a week-long orientation and training process – all in Spanish – and is now full of confidence in his new job in order fulfillment. During the onboarding process, Benavides checked in with Israel twice a week to answer any questions and make sure he was getting the support he needed. Yes, he was.
Israel Rises to the Challenge
About a month ago, Benavides approached Israel with a special request: We need more people. Do you have any friends or family in the Latino community who would like to work at Greenbridge? She also explained that for every person he referred and then was hired, Greenbridge would pay him a referral bonus of $1,000 (currently $1,250 during October 2021). Israel said he would see what he could do.
That's when the magic happened. On Friday, Israel posted on his Facebook account that Greenbridge was hiring and to connect with Benavides and mention his name.
Apparently, Israel has lots of friends and family looking for work. "I started getting messages on my phone at midnight. By Monday I'd gotten almost 100 calls. Twenty people came in for interviews and we hired 12. Of those, 10 stayed," Benavides says. "Israel gets a referral bonus for all of them."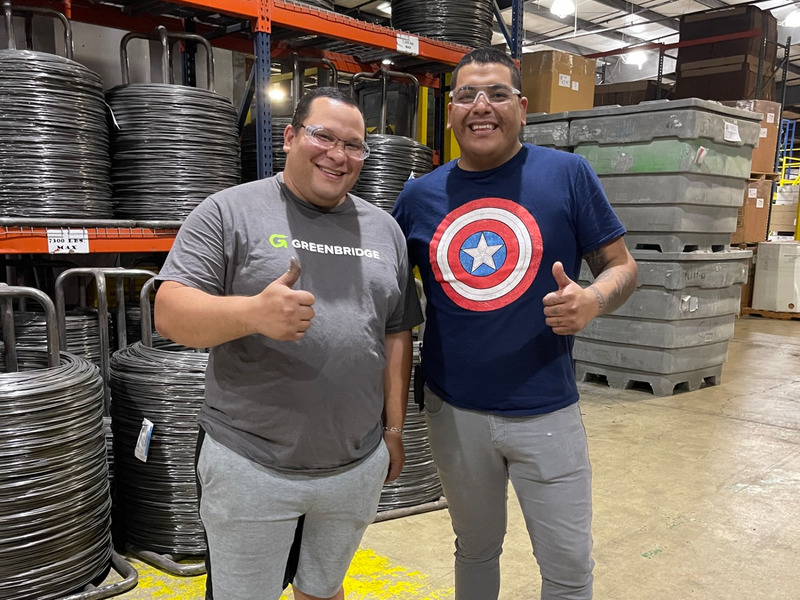 The Story Gets Better
One of the people who responded to Israel's Facebook post was Bryan. Originally from Mexico, he had arrived in Mentor just three weeks earlier and was looking for a job. As she did with Israel and other Latino applicants, Benavides helped Bryan with his application, onboarding letter, safety and employee benefits orientation. From there, Bryan was assigned to Greenbridge training supervisor Mike Breeden.
"Like all new employees, Bryan went through a full week of classroom training. The training is done in English and Spanish. During this time we do hands-on simulated training on tasks, so they learn the techniques they'll need on the manufacturing floor," Breeden explains.
"Bryan was a fast learner, very strong and eager to work. During week two, we had him on the floor working as a winder-operator with a trainer. By week three, he was responsible for his own line," Breeden adds. "Now, he's asking for overtime work."
Benavides says the Bilingual Talent Acquisition team also works with Latino team members on learning words and phrases they need to use every day on the job. They've created laminated "cheat sheets" with words like coil, strap, winder, and core in both English and Spanish. What's been interesting is English-speaking team members also appreciate the cheat sheets so they can communicate better with Latino co-workers.
Greenbridge is now planning to offer English as a Second Language classes to its team members to accelerate the learning process. Meanwhile, Benavides and Breeden have grown the bilingual team to ensure everyone has the information they need when they need it. This includes bilingual training coordinators Rafael Batista and Tom Seleman who joined Greenbridge in entry level positions and have since risen through the ranks.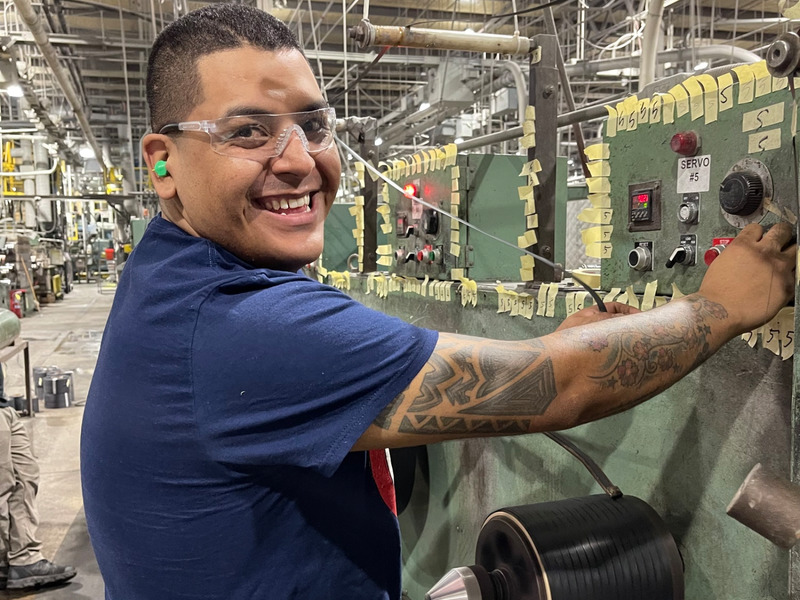 Personal interest in each new team member's success
Benavides and Breeden both have personal motivation for seeing each new Greenbridge team member succeed. In Benavides' case, 20 years ago she was a recently divorced, immigrant from Peru with two small children. Unable to leave the United States and having no family to support her, Benavides struggled to make a living and raise her kids. Now a successful businesswoman, she is happy to take new team members under her wing and help them get established at Greenbridge and within the community.
In Breeden's case, he joined Greenbridge 10 years ago as a winder operator. Since then he's worked nearly every job in the plant, which led to his current position as training supervisor and advocate for the Bilingual Talent Acquisition program. "I came to Greenbridge looking to build a career here, and that's what I've done. So when I talk to our new team members – I do know a little Spanish – I tell them this is just a starting point. You can do anything you want here."
Israel, Bryan, and other Latino team members are taking Breeden up on it. They want to succeed and appreciate the opportunity. Says Benavides, "They love their new teammates and even though they don't speak English yet, they communicate with smiles, handshakes and, of course, their cheat sheets. The key to the success to the program is everyone feeling welcome at Greenbridge and removing the language barriers. We are building a community."
Once the pilot of the Bilingual Talent Acquisition Program is complete at the Mentor plant, the plan is to implement it at other locations to give everyone the tools they need to grow their career with Greenbridge.
Interested in a career with Greenbridge? Explore our Career page. All openings are in English and Spanish here.