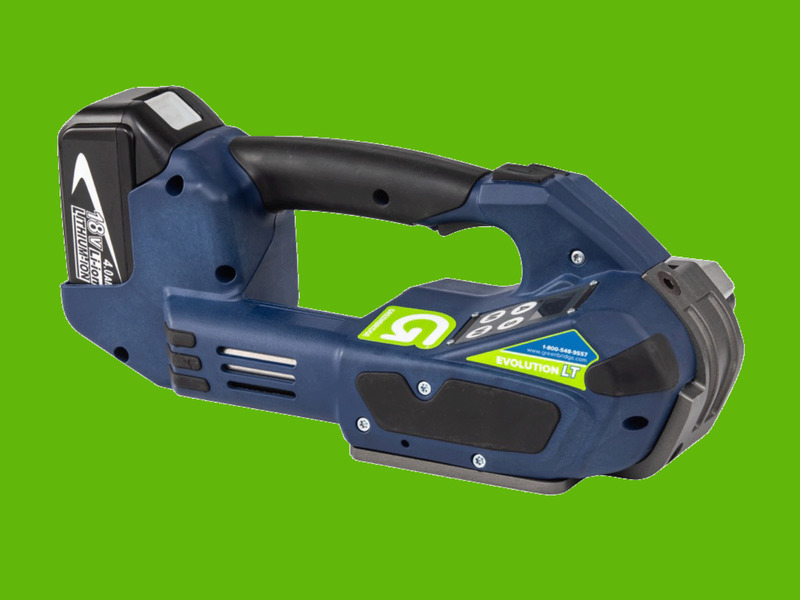 Introducing the EVOLUTION LT: The Must-Have, Automatic, No-Lever, Smart Strapping Tool
Every once in a while, a really great tool comes along and before you know it, you tell yourself, "I gotta have that tool." Or, at a minimum you're saying, my team's gotta have that tool.
Welcome to Greenbridge's must-have, patent-protected, fully automatic, no-lever, friction weld strapping tool, the EVOLUTION LT. This is one powerful, ergonomic and smart—as in Bluetooth-enabled , barely needs an operator smart—strapping tool. And believe you me, you are going to want it in your plant, your distribution center, loading dock, print shop, and in your technician's truck. The EVOLUTION LT is so handy, you're gonna want to take this bad boy home with you just to admire it.
Did I mention it's the first no-lever tool on the market? You need this tool.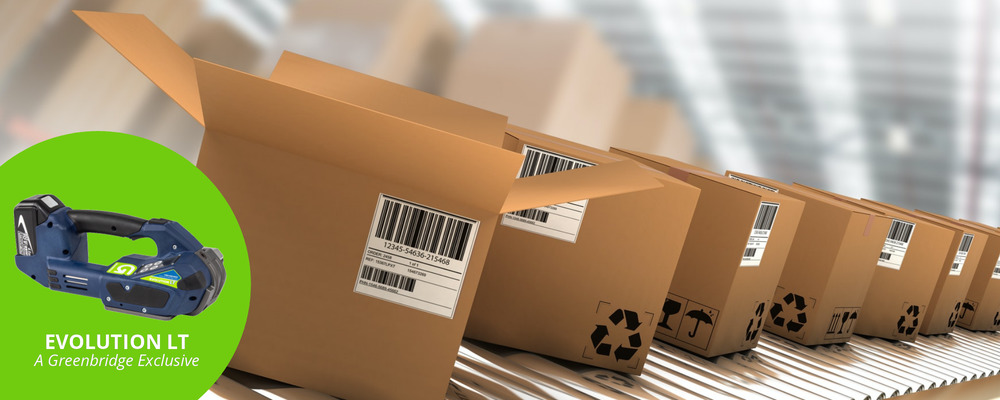 Greenbridge company, ITA Tools in Italy, the same country that gave us Ferrarris, created this next gen battery powered strapping tool. What a Thoroughbred it is, too. The EVOLUTION LT pulls up to 400 pounds of pressure and races to full pressure faster than every other tool in our portfolio, and that's saying a lot. At the same time, the EVOLUTION LT runs longer. One battery charge gets you up to 400 cycles. That's a lotta boxes, a lotta loads, a lotta work you need done now.
The EVOLUTION LT, as powerful and task-driven as it is, is a thing of beauty in your hands. Our design engineers were totally mindful of ergonomics. Weighing in at under 10 pounds – 9.7 to be exact – this tool is perfectly balanced and nimble enough to take on any horizontal strapping job you put in its path. It's also a machine that's sized so nearly anyone can use it: 13 inches long, 5.5 inches wide and 5.3 inches tall. Because there's no lever, it's also safer and less tiring for operators.
We mentioned the EVOLUTION LT Is a "smart" tool. Let us explain. This tool includes Bluetooth-enabled smart technology. When our EVOLUTION app debuts in the coming months, you will be able to do all set ups on your smart phone or tablet. For example, you can set and lock the tensioning force, welding time and operating mode. You can also set it up on the fully lighted LED touch screen. Everything is intuitive so training time is minimal. We want to make things easy, you know?
So what kind of strap do you like, polypropylene or polyester? The EVOLUTION LT accommodates both materials in widths that range from 1/2 to 5/8 inches (13-16mm) in width and .019– to .036″ inches in thickness. The strapping experts at Greenbridge are happy to recommend the optimal strap for your application and keep you supplied with strap, cornerboard, plus any other accessories you need.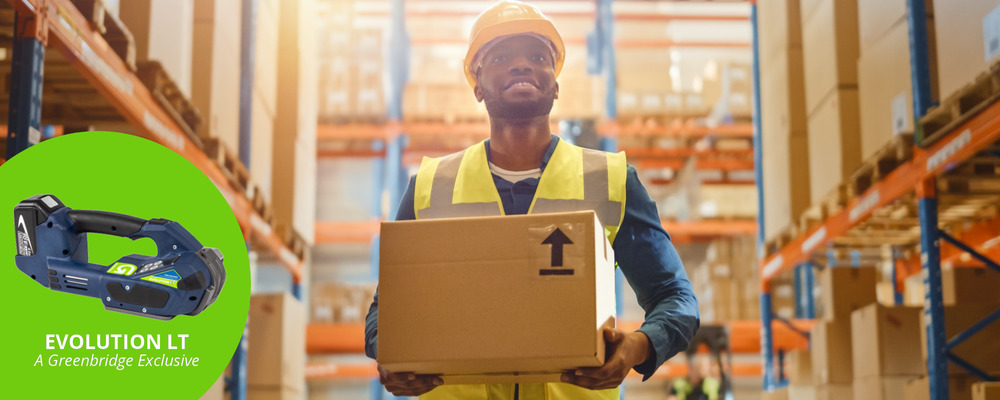 Some details about power. The EVOLUTION LT runs on an 18V, 4Ah Li-Ion battery and comes with both a battery and charger. Additional batteries can be purchased as backup.
For those who have fallen in love with our B Series of battery-powered friction weld tools and hate the thought of giving them up, all we can say is give the EVOLUTION LT a go. Calling it a great, all-purpose tool is an understatement. Use this tool to secure individual boxes as well as boxes on pallets; bundles of corrugated; cans and bottles; ag products and more. Literally, if you have a load to secure, put the EVOLUTION LT to work. NOTE: We're not saying to get rid of your loyal B Series tool, just add to your collection. You can never have too many tools.
As with any battery-powered, friction weld, hand strapping tool purchased from Greenbridge, we stand behind the EVOLUTION LT. In the event that it is not pulling its load, contact us immediately and we'll repair it. All Greenbridge tools are made to last and good old-fashioned TLC and regular maintenance can add years to a tool's life. Hey, it's what we do.
If the EVOLUTION LT sounds good, take a look at our demo video here. Find complete specs on our product sheet here. Or, contact your Greenbridge sales representative here and we'll fix you up. But you better hurry. Sales of all Greenbridge battery powered, friction weld strapping tools are way up in 2021 and you don't want to miss out on the EVOLUTION LT.